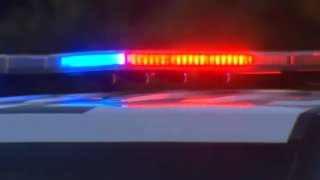 A man in a mask from the movie "Scream" robbed a jewelry store at a Massachusetts mall before being arrested Monday.
The man, still wearing the mask, was chased down across Route 128 from the Northshore Mall in Peabody by an officer, who found a black BB gun and stolen necklaces and watches on him, according to Peabody police.
The incident began when the man walked into a Kay's Jewelers in the mall about 1 p.m., police said.
Wearing the distinctive mask and black clothes, the man gestured that he had a gun, according to police, who said he had a note in a backpack reading, "Put everything in the bag. I'll give you two minutes before I shoot. Don't make a sound."
The suspected robber, identified as Starlin Batista, a 27-year-old from Peabody, was spotted soon afterward by an officer near an access road to the mall, who chased after the man as he ran away, police said. The officer caught him near Northshore Road, across the highway from the mall.
Batista is due to face charges of armed, masked robbery and assault and battery with a dangerous weapon in Peabody District Court Tuesday morning, police said. It wasn't immediately clear if he had an attorney who could speak to his arrest.
Police said earlier in the day that the mall was briefly put into lockdown. But a spokesperson for the mall said Monday night that did not happen.
Local
In-depth news coverage of the Greater Boston Area.
"Thanks to the quick actions of our security team and Peabody Police, the robbery suspect was swiftly apprehended and put into police custody without incident," the mall said in a statement. "While this was an isolated incident, and no lockdown was ordered or required, a few stores chose to close their gates. Peabody Police have deemed there is no ongoing threat and mall operations are continuing as usual."