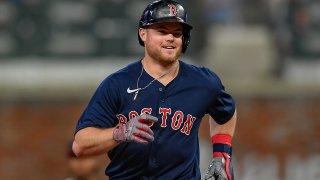 Christian Arroyo relished delivering the big hit Wednesday night. After reviewing the tape, he thinks his celebration needs some work.
Arroyo slugged a pinch-hit grand slam in the seventh inning to give Boston the lead and the surging Red Sox beat the Atlanta Braves 10-8 on Wednesday night to move within one game of first place.
Arroyo blew kisses and took a fancy step as he rounded third base.
"These are the type moments you live for," he said. "I will say this, it does need some work. I saw the video of it."
Boston recovered after blowing a 6-3 lead. Freddie Freeman hit a go-ahead homer for Atlanta in the sixth after Dansby Swanson's three-run shot tied the game in the fifth.
The Red Sox (42-27) are only one game behind AL East-leading Tampa Bay, which lost 8-7 in 10 innings to the Chicago White Sox on Wednesday. Boston, which moved a season-best 15 games over .500, has won three consecutive games and five of seven.
Adam Ottavino gave up a run-scoring double to Ronald Acuña Jr. in the ninth. Acuña was thrown out at third and Ottavino struck out Freeman for his fourth save.
"Honestly I was just trying to make an aggressive play," Acuña said through a translator. "Looking back on it now, that was my bad. I should have given the hitter behind me a chance to drive in a run."
The Red Sox loaded the bases against Shane Greene (0-1) in the seventh. Greene struck out Bobby Dalbec for the second out of the inning before left-hander A.J. Minter gave up Arroyo's fourth homer deep into the left field seats.
Red Sox manager Alex Cora planned to use Danny Santana as his pinch-hitter before the Braves brought in Minter.
"When they went with the lefty it was a no-brainer, let's go with Arroyo," Cora said.
Yacksel Rios (1-0) recorded one out in the sixth after he was added to the roster before the game. Rios, 27, was acquired from Seattle on Monday for cash.
Hunter Renfroe hit a two-run single in the first and Xander Bogaerts had three doubles to lead Boston's 14-hit attack.
The Braves pulled even in the fifth on Swanson's three-run homer off Richards. With one out in the sixth, Freeman hit a low fastball from Hirokazu Sawamura into the seats in left-center for his 16th homer.
Boston swept the two-game series, extending the Braves' woes with consecutive 10-8 victories. Atlanta (30-35) has lost six of seven.
"We've got to do a better job of that if we're going to get on a run like we feel like we're capable of," Braves manager Brian Snitker said.
Ian Anderson allowed four runs on seven hits and a walk in four innings. Boston scored two runs in the fourth off the right-hander. Dalbec's single drove in Renfroe, who just missed a homer with his double to left field.
Left-hander Darwinzon Hernandez survived a bases-loaded jam in the seventh. Ozzie Albies grounded out to end the inning.
Copyright AP - Associated Press