Snow continued to melt today as high temperatures climbed into the 40s. As temperatures drop overnight, there will be some concerns with black ice – use caution on the roads.
Sunday will be colder than Saturday as clouds start to move in during the afternoon. A batch of light snow, sleet and rain will move in Sunday night.
Local
In-depth news coverage of the Greater Boston Area.
Minor accumulations are possible, especially north of the Pike and away from the coast. The last remaining precipitation will move out in time for the Monday morning commute.
Another system will move in Tuesday. This system will also be weak with light precipitation. Light snow will be possible, this time north of Route 2. We're expecting this clipper to exit by Tuesday night.
[NATL] Extreme Weather Photos: Record Heat Threatens Europe
Temperatures Monday and Tuesday will climb into the upper 30s and low 40s.
Wednesday, the busiest travel day of the year, will be dry and cold. Thanksgiving might be even colder. Temperatures will only climb into the 20s and 30s.
Let's look at Boston's Thanksgiving climatology:
Warmest: 71 degrees, 1941 (Nov. 20)
Coldest: 11 degrees, 1873 (Nov. 27)
Wettest: 2.59 inches, 1971 (Nov. 25)
Snowiest: 4.4 inches, 1989 (Nov. 23)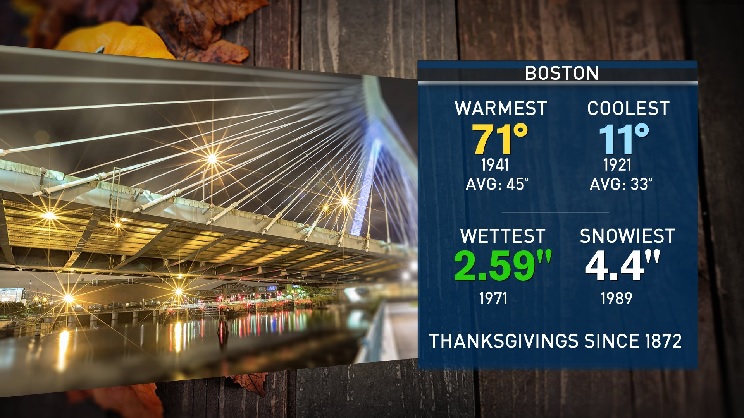 The weather looks to turn unsettled by the weekend. Temperatures will be warmer with expect high temperatures in the mid 40s.