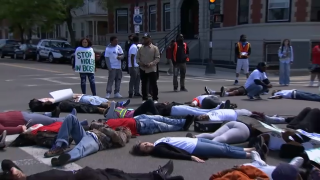 Dozens of people participated in a die-in in Boston's Dorchester neighborhood on Wednesday to bring attention to the deadly gun violence erupting in the area.
People lay down on the intersection of Washington Street and Columbia Road in an attempt to raise awareness about the violence. The event was organized by Teen Empowerment Boston.
"We're trying to disrupt the flow of the city and say that enough is enough," Alejandro Gonzalez said.
Deadly violence is on the rise in the city — as of mid-April, 11 homicides were reported, up from five during the same period in 2022, according to city data.
Boston recently committed $100,000 to an events program in the neighborhoods most impacted by violence in an effort to create a sense of community.
More on gun violence in Boston