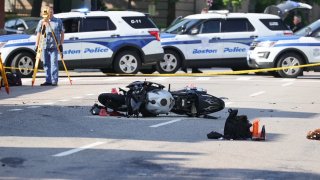 At least one person sustained life-threatening injuries in a crash in Boston's Dorchester neighborhood involving a motorcycle Tuesday.
Boston police said the motorcycle and a minivan were involved in the crash on Columbia Road and Glendale Street around 9:45 a.m.
Images from the scene showed the damaged motorcycle, as well as damage to the rear of the van.
No further information was immediately available.