Authorities continued their search for a missing woman in Brookfield, Massachusetts, on Saturday, covering more than 250 acres.
Massachusetts State Police said the search resumed for Brittany Tee in a large wooded area near her home and along Route 9 and Route 148. The 35-year-old has not been seen since Jan. 10.
"Today we continue the search for Brittany Tee and have brought several different resources as they've been offered to us to look in several different areas in Brookfield," Worcester County District Attorney Joseph Early said during a press conference Saturday.
The expansive search Saturday included Worcester and Holden police, the central Massachusetts and Berkshire Mountain Search and Rescue, and trained civilian units.
State police later said their search had concluded for the day, noting neither Tee nor evidence of her whereabouts were found.
According to state police, detectives are continuing to investigate direction of travel/possible locations, and officials are planning a likely water search next week.
"The state police dive team and the water searches will be conducted based on weather conditions," Early said.
Authorities are looking into whether Tee may be beyond the 3-mile radius they've been searching.
"Wherever the leads lead us, we'll check and we're going to run down everything," an official said Saturday. "The possibilities right now unfortunately seem endless."
Tee has been missing for more than 10 days, but the district attorney says community tips have been helpful and they remain hopeful at this point.
"We're hopeful that she's still alive," the DA said.
Civilian search parties remain off the table, however.
"All of these people go through a ton of training to be able to do what they're doing today," Early said. "You wish it could happen on TV like it does with Law and Order, you get answers within an hour, but they plot everything out, and they do it, and we're just going to let them keep doing what they're doing because they're the best at it."
Investigators released several new photos of Tee on Thursday. Three of the new images were taken from surveillance footage on Jan. 6, just days before she was last seen around 8:30 p.m. Tuesday walking away from the home where she was staying on Main Street toward Lewis Field.
Tee is described as about 5-foot-6 with brown hair and blue eyes. She was last seen wearing a black winter coat, a hoodie, jeans and work boots.
Authorities are continuing to review video surveillance and all tips they have received. The public is urged to continue reporting anything that could be helpful in locating Tee.
An anonymous tip line was set up last week, and anyone can provide information relevant to the case by calling 508-453-7589.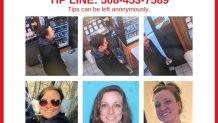 The district attorney said Saturday that Tee's family has been fully cooperating, helping investigators as much as they can.
It was Tee's family who reported her missing on the night of Jan. 10 after growing concerned that they had been unable to reach her. They believe she had her wallet, iPad and cellphone with her, but her phone is no longer working.
Her family said they've put up fliers and several posts on social media.
Authorities have previously said their investigation isn't focused on a possible crime at this time and urged the public not to jump to conclusions.
More on the search for Brittany Tee