Investigators released new photos Thursday of a Brookfield, Massachusetts, woman who has been missing for over a week.
Brittany Tee, 35, was last seen on Jan. 10 at about 8:30 p.m., walking away from the home where she was staying on Main Street toward Lewis Field.
The Worcester District Attorney's Office released four new images Thursday, three of which were taken from surveillance footage on Jan. 6, just days before she was last seen.
Authorities continue to review video surveillance and tips they have received. Worcester District Attorney Joseph Early continues to ask for public help.
"We appreciate all the members of the public who have given us tips. If you've been putting off looking at your video, please take a look at it, we've had some great stuff come in," he said, noting that it helps investigators determine areas to search or eliminate based on her past whereabouts.
The ground search is scheduled to resume in Brookfield on Saturday, with multiple local and state agencies involved.
Earlier this week, authorities set up an anonymous tip line for anyone to provide information that could be relevant to the case. Worcester County District Attorney Joseph Early urged people to call the hotline, 508-453-7589, "if there's anything that you see at all."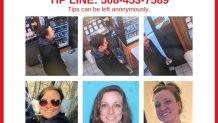 Officers on foot and driving ATVs searched deep into the heavily wooded area around the field for three miles around where she as last seen on Tuesday. An initial search had focused only on a two-mile area. The search continued on Wednesday and Thursday.
Tee's family reported her missing on the night of Jan. 10 after growing concerned that they had been unable to reach her. They believe she had her wallet, iPad and cellphone with her, but her phone is no longer working.
Her family said they've put up fliers and several posts on social media, while police have searched the home where Brittany was staying.
Authorities have continued to ask for the public's help in finding Tee, and say the investigation isn't focused on a possible crime.
"Everyone that we're talking to has been cooperative," Worcester District Attorney Joseph Early Jr. said Tuesday, noting that the incident is not being considered a crime scene.
Brookfield Police Chief Michael Blanchard has urged the public not to jump to conclusions because of a lack of updates:
"Remain positive, keep Brittany and her family in your thoughts and prayers."
Brittany is described as about 5-foot-6 with brown hair and blue eyes. She was last seen wearing a black winter coat, a hoodie, jeans and work boots.
More on the search for Brittany Tee