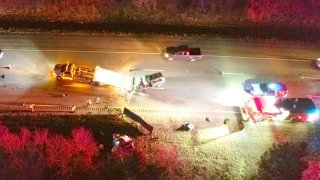 A 21-year-old man from Portsmouth, R.I. died in a car crash early Wednesday morning after he was struck by a wrong-way driver.
Authorities responded to a crash in Somerset, Massachusetts around 3:45 a.m., the Massachusetts State Police said. A Volvo SUV driven by a 50-year-old man from Bristol, R.I. was driving east on the west side of Interstate 195 when it struck a Nissan Sentra driven by the 21-year-old head on. The Nissan then burst into flames.
The wrong-way driver was brought to Rhode Island Hospital with serious injuries.
As of 8:30 a.m., all but one of the lanes on the road had been reopened. Traffic lanes were closed for about five hours, police said.
The identity of the person killed has not yet been released.
This is a developing story and will be updated with information as it become available.