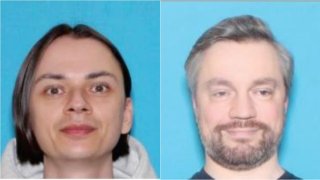 Authorities are asking for the public's help to find two missing men from Medford, Massachusetts.
The Middlesex County District Attorney's Office said Friday 28-year-old Pavel Vekshin and 37-year-old Kiryl Schukin, residents of an apartment on Locust Street, were reported missing by friends and coworkers on Sunday, April 9. But Vekshin and Schukin have not been seen or heard from since March 30, the office said.
Prosecutors say police found the men's vehicle, but they did not say where. Their cellphones are believed to be off.
Authorities did not give physical descriptions of the men, but shared photos.
Anyone with information is asked to call Massachusetts State Police at 781-897-6600 or the Medford Police Department at 781-391-6767.