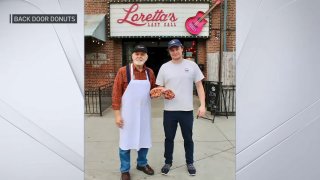 If you're someone who likes "Donuts After Dark," we have good news for you: the popular Martha's Vineyard late-night tradition is coming to Boston's Lansdowne Street.
Back Door Donuts, a popular doughnut store in Oak Bluffs, announced Thursday that it will be opening a pop-up shop with Loretta's Last Call where it will offer freshly-baked donuts, apple fritters, hot items and other assorted baked goods -- when the sun goes down, of course!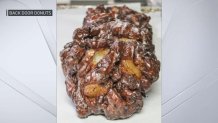 The grand opening is slated for Wednesday, March 15. The store will be located at 1 Lansdowne Street, directly next to Lucky Strike on Ipswich Street, and will be open daily in the Fenway neighborhood from 7 p.m. to 2 a.m.
"From the smell, to the atmosphere, and the infamous 'Donuts After Dark' neon... we're kind of hard to miss," the store posted on its website.
The shop is known for its sugary smells that pour out across town during the summer and says people from all walks of life line up by the hundreds looking to satisfy their sweet tooth.
According to the Instagram post, the company has been working hard for the past few years to bring everyone's favorite island donut shop to the city.
Back Door Donuts teased more details and surprises ahead of the opening.
"We look forward to crossing paths with longtime fans and newcomers alike," the company wrote on social media. "Cheers to a glazed and confused future.. may it be filled with many more years of sweetness!​"