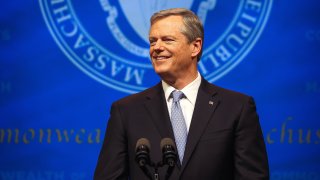 In his final address to the Greater Boston Chamber of Commerce's government affairs forum, Gov. Charlie Baker announced tax cuts and talked about how the coronavirus pandemic will change the Massachusetts economy.
Baker spoke at Westin Copley Place Tuesday morning about being on therapy-like calls with governors from states around the country during the height of the pandemic and feeling grateful to be the governor of Massachusetts.
"That, in many ways for me, is always going to be the most lasting and significant part of the pandemic, which is how well -- whatever you thought of any of the decisions we and others made -- the people in Massachusetts perform under extreme circumstances over an extended period of time," Baker said. "And I don't think that gets said enough."
Baker is serving out the last year of his term, and will have a say in scores of major bills before he leaves office in early 2023. Here are the major issues he spoke about:
Taxes
Baker's tax cuts includes relief for renters, who he noted are dealing with rising costs of housing under the current economic climate, as well as eliminating taxes for low-income people.
"Massachusetts has some of the highest low-income people who pay taxes in the Commonwealth in the country," Baker said. "At a minimum, what we ought to be doing here is least adopting the no-tax status, as it exists under federal law, which would mean that some of the lowest income earnings tax payers would become non-taxpayers."
Baker also proposed an increase on the Senior Circuit Breaker Tax Credit, which applies to property taxes for elderly residents. Eligible Massachusetts residents ages 65 or older can claim a refundable credit on personal state income tax returns based on the actual real estate taxes paid. The maximum credit amount for tax year 2021 is $1,170.
Baker also proposal to improve the competitive position of the estate tax, pointing out that there aren't that many states that have estate taxes to begin with. Even Oregon, which is the only other state that as an estate taxes, starts at a million dollars. The Massachusetts tax taxes people on everything up to a million dollars, once hitting the million dollar mark.
"Pretty much nobody as an estate tax that's as aggressive as the estate tax here," Baker said. "This is an enormous disincentive for people as they age to stay here in the Commonwealth of Mass. And the beauty of this one is there a plenty of Democrats as well as Republicans who think it's time that we made our estate tax just a little bit more competitive."
Finally, Baker intends to cut the short term capital gains tax in Massachusetts, which is currently at 12%. Since so much of what people invest in are bundled funds or mutual funds of one kind or another, those mutual funds buy and sell stocks over the course of the year and that lands on the state income tax of a lot of people who are moderate income earners, Baker said.
"That's a staggering number relative to what you see on short term capital gains taxes in virtually every other state in the country," Baker said. "If people have learned anything over the past two years, one of the biggest things they've learned when it comes to work and where they live, it's that those two things no longer have to be directly related to one another. And we should all take that very seriously as we think about our competitive position going forward."
COVID-19 Pandemic
Based on a Future of Work report that found the coronavirus pandemic may shift the "center of gravity" in Massachusetts while high costs of living and doing business pose a risk of future job growth moving out-of-state, the Baker administration filed a $250 million proposal last year.
"I do think the future of work is going to be different," Baker said. "People, I think, where they live, how they live, where they work, how they work -- those things are all going to be different. I think the key question is, 'How different?' No one really knows the answer to that one."
In an attempt to illustrate how tough the housing market is in Massachusetts, Baker pointed out that Amazon flagged housing hurdles in passing over the Boston area for expansion, but then chose the high-cost New York City and Washington D.C. areas.
Baker's legislation seeks to work with cities and towns to reimagine and reconsider how downtowns operate and provide grant funds to municipalities and other eligible public entities for a range of projects. The Commonwealth has billions of dollars in federal funds available to deal with the consequences of the pandemic, Baker said.
"We are going through an enormous transformation and how people think about work," Baker said. "The future of downtown's is going to be different -- whether we like it or not -- than it was before."
Labor
Baker touted Massachusetts' 66% labor force participation rate, which is about four or five points higher than the national average. The unemployment rate, however, is about 4.8%, which is slightly above the national average.
"We've had a fairly significant bounce back in our employment situation over the course of the past two years," Baker said. "We have one of the highest labor force participation rates in the country."
Massachusetts lost about 700,000 jobs during the peak of the pandemic in the spring of 2020, about 580,000 of those have since returned, Baker said. There are currently have 250,000 open positions in Massachusetts and about 180,000 people looking for work. He also teased measures to offer support for people who are looking for work and businesses looking for workers.
"We'll have more to say about that later this week," Baker said. "But there are tremendous opportunities for us to help get that final group of folks who currently aren't working back to work and we think it's really important that that happen, and that happened as quickly as possible."
Health Care
Baker referred to a comprehensive health care bill announced last week that targets access and cost in the system.
The bill builds off ideas Baker first proposed in 2019 when he filed legislation that would have required health care providers and insurers to boost their spending on addiction services, behavioral health, primary care and geriatric services by 30% over three years.
"We don't have enough of any of those people anywhere in the healthcare system. That was true in 2019 before the pandemic, it is way more true now," Baker said. "In fact, I would argue that the behavioral health challenges we face -- and I'm talking kids, young adults, everybody -- are more profound coming out of this pandemic than almost anything else."
That bill, which stalled as the pandemic took hold, would have encouraged more behavioral health providers to accept insurance, including MassHealth, and taken steps to address surprise out-of-network billing and escalating drug prices.
"I'm not a big mandate guy, but there's no other way to get from here to there given federal policy that would have required employers and insurers to invest more heavily in primary care and behavioral health care," Baker said. "And I'm gonna fight like mad to make it happen."
Transportation
Baker rolled out a $9.7 billion bond bill Thursday that would, among other things, give a major boost to projects to make Massachusetts infrastructure more resilient in the face of climate change.
Stressing that lawmakers first need to authorize spending for Massachusetts to take advantage of available federal funding, Baker unveiled a long-promised transportation and environment bond bill aimed at buoying already-planned projects and unlocking additional dollars from Washington, D.C.
The proposal calls for $5.4 billion in highway funding, $2.2 billion for the MBTA, $591 million for the state's regional transit authorities, and $1.4 billion to improve environmental infrastructure, representing a combination of federal and state money.
Offshore Wind
Baker filed legislation last year to direct $750 million to support the continued growth and development of the Commonwealth's clean energy industry.
"There are so many interesting ideas that people have about how to deliver a cleaner and greener economy and they are going to need a bit of a lift from us to get from where they are to where they need to go," Baker said.
Massachusetts is building its first offshore wind manufacturing facility at the site of an old coal power plant in Somerset. A separate offshore wind project off the coast of Massachusetts, Vineyard Wind, is moving forward as the nation's first commercial-scale offshore wind farm.
"You should all take credit for the fact that Massachusetts basically created kicked off catalyzed the deep-water offshore wind industry in the United States," Baker said. "The work we did with our colleagues in the legislature on the first deep-water offshore wind procurement came in at such a low price, shocking everybody, that all of a sudden everybody up and down the East Coast, suddenly wanting to get into the offshore wind business."
More on the Baker Administration