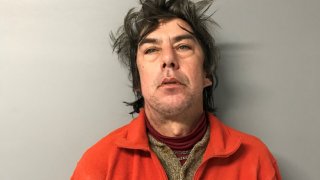 An alleged bank robber who was captured on camera leaving with a handful of cash has been arrested by authorities in South Burlington, Vermont.
Police say they received numerous tips about the suspect's identity after releasing the surveillance photo, and in a statement Sunday, the South Burlington Police Department thanked the public for their assistance in identifying the suspect as 52-year-old Timothy Page.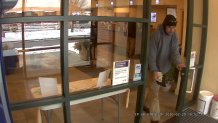 Authorities located Page shortly after 11:30 a.m. Sunday, and he was taken into custody without incident. He is facing charges of assault and robbery.
Police were notified at 10:53 a.m. Saturday by a hold up alarm from People's United Bank at 99 Dorset Street. Authorities allege Page walked into the bank and handed the teller a note before fleeing on foot with an unknown amount of money.
Page is being held at Northwest Correctional Facility on $100,000 bail. He is expected in Chittenden Superior Court on Monday at 8:30 a.m. It's unclear if he has an attorney.
The South Burlington Police Department is thanking the public for their assistance in identifying Page.