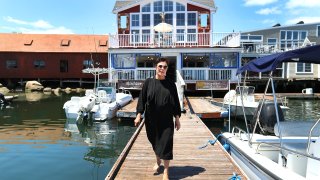 [This story first appeared on Boston Restaurant Talk.]
Last March, it was reported that one of the region's best known chefs and restaurateurs was taking over a popular waterside restaurant on the North Shore, and now we have learned that it will soon be reborn.
According to a post within the jobs section of the bostonchefs.com site, The Rudder in Gloucester plans to reopen this spring, with the website for the spot confirming that Barbara Lynch (B&G Oysters, The Butcher Shop, Drink, Menton, No. 9 Park, Sportello) is behind it and that it is transitioning "from a blank canvas to a thoughtful masterpiece that combines Barbara's love of food and her passion for the arts." The Rudder was established in 1957, being known for its seafood dishes and views of the water from its location in the city's Rocky Neck neighborhood, which is also home to a number of art studios/galleries.
The address for The Rudder is 73 Rocky Neck Avenue, Gloucester, MA, 01930. Its website can be found at https://www.therudderrockyneck.com/
[Earlier Article]
Barbara Lynch Is Taking Over The Rudder Restaurant in Gloucester
Copyright Boston - Boston's Hidden Restaurants