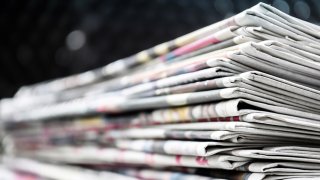 The Bay State Banner, a historic black community newspaper that has been published since 1965, has been sold to Mitchell-Stark Enterprises (MSE), with Mill Cities Community Investments (MCCI) as lead investor.
Melvin B. Miller, owner, publisher, and editor-in-chief of the newspaper since 1965 announced that after more than 57 years he would be selling the newspaper.
The Bay State Banner is one of the nation's leading African American news organizations, the oldest of three currently operating in New England.
Mitchell-Stark Enterprises President and CEO Ronald DuBois Mitchell, and Vice President and COO Andre Hamilton Stark said in press release that they "are committed to honoring Miller's legacy, leading current staff and new consultants, and shaping the Banner's vision going forward."