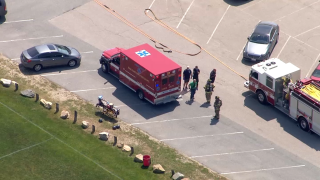 A 77-year-old bicyclist was injured when he was struck by a vehicle in Holliston, Massachusetts, on Tuesday afternoon.
Police said a landscaping truck struck the man around 1:45 p.m. near the intersection of Prentice and Highland Streets. The bicyclist was unconscious with serious injuries when emergency crews arrived, police said.
The victim was airlifted to Beth Israel Deaconess Medical Center for treatment. His condition was not immediately clear.
The driver was not hurt.
The road was closed in the area but has since reopened. The investigation is ongoing.
No further information was immediately released.