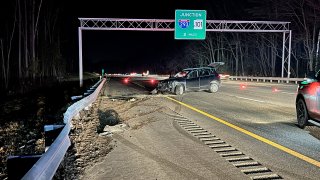 A bizarre incident where a vehicle crashed into and knocked down a light pole, causing 10 other cars to get flat tires, shut down a portion of Interstate 93 in New Hampshire on Sunday night.
State police said they received a call around 7:11 p.m. saying multiple disabled vehicles were on the sides of I-93 north at Exit 1 in Salem. Initial reports said there was a light pole down, blocking the highway and the Exit 1 off-ramp.
When they arrived, state troopers said they found about 10 vehicles on the ramp and on either side of the highway with at least one, if not more, flat tires. A vehicle had reportedly struck the Exit 1 sign and a light pole, causing metal and other debris to be strewn across the ramp and the highway.
Police said the flat tires were a result of people driving over the debris.
The debris in the roadway caused I-93 north in Salem to be closed for about 30 minutes while police and firefighters cleared the debris and had the damaged vehicles removed.
State police said the vehicle responsible for the damaged light pole was not found at the scene.
But less than 10 minutes later, police said they started receiving calls reporting a crash on I-93 north near Exit 5 several towns away in Londonderry. A 2012 Volkswagen Tiguan had reportedly struck the left guardrail, coming to rest in the left two lanes of the highway.
When they got there, police said they found alcohol inside the SUV, but the driver was no longer there.
Good Samaritans who stopped to check on the driver following the crash told police the driver fled the scene, running into the woods off the east side of the highway. State police used a K9 unit to attempt to locate the driver, but were unable to find them.
I-93 north in Londonderry in the area of the crash was closed for about 30 minutes due to debris on the highway and to accommodate the search for the driver.
State police said they are still investigating whether the first incident at Exit 1 in Salem and the crash near Exit 5 in Londonderry are connected.
No further details about the driver of the SUV involved in the Londonderry crash were released by state police. Anyone with information about either of the incidents is asked to contact Trooper Luan Sanches at 603-227-0114 or Luan.G.Sanches@dos.nh.gov.