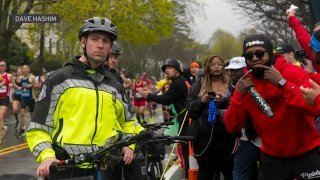 Some Black spectators of the Boston Marathon say they were overpoliced while watching the race Monday in Newton.
Members of TrailblazHers Run Co and PIONEERS Run Crew, both racially diverse running clubs, have said Black members were singled out by the Newton Police Department. Massachusetts' attorney general was looking into the claims, while the Newton Police Department said its officers "responded respectfully" after being told by marathon organizers of people getting onto the course.
Images posted to social media by members of TrailblazHers Run Co and PIONEERS Run Crew show officers lining the street, appearing to use bicycles to block off the course.
"We create a welcoming environment for our friends to come from every city to come and cheer their friends on, and we tend to be heavily Black and brown," Sid Baptise of PIONEERS Run Crew told NBC10 Boston Tuesday. "We have our music, we're doing nothing different than what anybody else is doing, and we just felt like we were targeted."
A captain with PIONEERS, Aliese Lash, told The Boston Globe that some members had jumped onto the course at times to cheer on athletes.
"We were at Heartbreak Hill, but it was a different type of heartbreak," Lash said, according to the Globe. "We want to experience the joy of running, the joy of the course, but yesterday was just so blatant that we weren't welcome there."
The office of Massachusetts Attorney General Andrea Joy Campbell said Tuesday that it had been in contact with those making the accusations, adding that they are being taken seriously.
In a letter Wednesday to Newton Mayor Ruthanne Fuller and Newton Police Chief John Carmichael, Lawyers for Civil Rights requested records, including audio and video recordings from the area of Mile 21 Monday.
"With the 10th anniversary of the tragic Boston Marathon bombing, increased security concerns are expected and warranted. Runners, spectators and law enforcement all share the same strong interest in safety. However, safety concerns cannot override fundamental civil rights protections, including the right to live free of racism and discrimination, particularly at the hands of police," Tasheena Davis wrote in the letter for Lawyers for Civil Rights on behalf of those impacted.
Newton police said in a statement Tuesday that the Boston Athletic Association notified it three times during the race about spectators going past the rope barrier and impeding runners.
"The Newton Police Department responded respectfully and repeatedly requesting that spectators stay behind the rope and not encroach onto the course," the department wrote in the statement. "When spectators continued to cross the rope, NPD with additional officers calmly used bicycles for a short period to demarcate the course and keep both runners and spectators safe."
NBC10 Boston reached out Wednesday for additional comment from the department, but has not yet heard back.
PIONEERS Run Crew said that it planned to meet with the BAA Wednesday, but there has been no word whether the meeting took place.