What to Know
Prosecutors investigating the disappearance of Ana Walshe from her Cohasset home revealed new information in court Monday after her husband, Brian Walshe, was arrested.
Hours after they revealed Brian Walshe had told police that he went to his mother's house in Swampscott on Jan. 1, but got lost, police were seen removing dumpsters from the apartment complex.
Missing since New Year's Day, Ana Walshe has still not been found.
Blood, along with a bloody knife, were discovered by law enforcement in the basement of the Walshe family's home, prosecutors alleged during Brian Walshe's arraignment amid the search for his missing wife, Ana Walshe.
Prosecutors also claimed that he lied about his whereabouts to law enforcement, and bought $450 worth of cleaning supplies at Home Depot.
Forty-six-year-old Brian Walshe appeared in a Quincy, Massachusetts, courtroom Monday morning for an arraignment following his weekend arrest for allegedly misleading police. A search has been ongoing for his wife, who hasn't been seen since New Year's Day.
Monday's revelations are a sharp departure from Friday, when police in Cohasset said Brian Walshe was cooperating with the investigation during a news conference about the missing person search.
Ana Walshe had supposedly been about to take a rideshare service to Logan Airport to fly to Washington D.C. when she was last seen on New Year's Day, but during Monday's arraignment, prosecutors said that her cellphone was pinged in the area of the house on Jan. 1 and Jan. 2, after Walshe said his wife had already left.
Walshe has been on house arrest, pending sentencing in federal court for a prior case involving fake Andy Warhol paintings.
Prosecutors said that Walshe had told police that he went to his mother's house in Swampscott on Jan. 1, but it took him a lot longer because he got lost. He also told police that he went to Whole Foods and CVS, but prosecutors said there is no surveillance footage of him in either of those stores. There also were no receipts for purchases at the stores, prosecutors said.
Investigators on Monday removed dumpsters from outside of the Swampscott apartment complex where Walshe's mother lives,
Police taped off the area with crime scene tape and hauled the dumpsters away from the scene as possible evidence in the case, the NBC10 Investigators learned.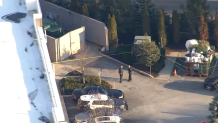 A representative for the Essex County District Attorney's Office could not comment on whether the search in Swampscott was related to the Walshe investigation; a representative for the Norfolk County District Attorney didn't have a comment on the search in Swampscott. NBC10 Boston has reached out to state and local police.
Walshe told police that on Jan. 2, the only time he left the house was to take his son for some ice cream, prosecutors said. However, the state claimed that surveillance footage that day showed him at a Home Depot, buying about $450 worth of cleaning supplies, including mops, buckets, tarps various kinds of tape and more. Walshe was wearing a mask and gloves and paid in cash when he went to the Home Depot, court documents said.
After getting a search warrant to search the house, police, along with crime scene services, found blood in the basement of the home, along with a knife that also contained blood, prosecutors said, adding that part of the knife was damaged.
The state claimed that lies Walshe told investigators could have allowed him time to clean up evidence.
Ana Walshe has still not been found.
An attorney representing Walshe in court on Monday claimed that he contacted his wife's employer in Washington D.C. to say he hadn't heard from her. His attorney also said he has been cooperative, consenting to searches of his phone and home.
A judge set Walshe's bail at $500,000 cash. His only charge at this point is misleading police.
The man who owns the home where the Walshes live says Brian Walshe called him last week asking him if he had surveillance cameras up, adding his wife was missing.
The landlord, who didn't want to be identified, as he didn't think anything of it at the time. Now, he wonders.
The landlord added that Brian always paid the family's rent early, and the landlord said he had no idea anything was amiss.