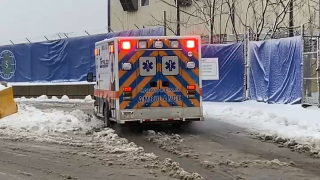 Crews in Everett, Massachusetts, were responding to an unexploded military device on Thursday morning.
The Everett Fire Department confirmed that it was on scene at Rover Street, and that the Boston Fire Department's Bomb Squad was also responding to the unexploded ordnance.
By 8:40 a.m., the scene had cleared and the bomb squad was in possession of the device, according to fire officials.
Specifics about the device itself were not provided, however, an unexploded ordnance refers to some sort of military weapon that failed when it was first used, and still could be explosive. Examples include old bombs, shells, grenades and bullets.