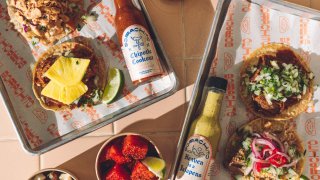 [This story first appeared on Boston Restaurant Talk.]
Last summer, it was reported that a taqueria in New York City would be expanding to the Boston waterfront, and we have now learned that it has opened.
According to a press release along with its website and social media, Borrachito debuts today at The Superette, a retail, dining, and entertainment center in the city's Seaport District, and as mentioned earlier, a hidden back room includes a bar/lounge area that was originally to be called The Garret Bar, though it no longer appears to have a separate name after all. The Garret Group, which runs both the original location in Manhattan's East Village and the new location in Boston, also operates The Garret cocktail bar and Bandits diner and dive, both of which are in Manhattan.
The address for Borrachito in the Seaport District is 70 Pier 4 Boulevard, Suite 270, Boston, MA, 02210. Its web page is at https://www.borrachito.com/boston while its Instagram page is at https://www.instagram.com/borrachitotaqueria/
[Earlier Article]
Borrachito and The Garret Bar to Open at The Superette in Boston's Seaport District
Copyright Boston - Boston's Hidden Restaurants