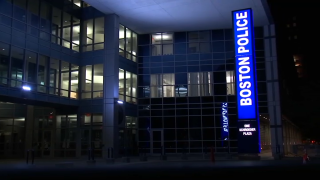 The Boston Police Department says one of its officers was arrested last week for assault and battery.
According to police, longtime cop James Kenneally was taken into custody around 1:30 p.m. Monday after he was involved in a domestic incident involving a family member.
Police did not elaborate on what happened, only saying Kenneally -- who has been a Boston cop since 1997 -- was placed on administrative leave.
An attorney for Kenneally tells NBC10 Boston in a statement that while his client "continues to grieve the loss of his father, he does not regret the decision to defend himself after being attacked by a younger male sibling" inside a West Roxbury funeral home.
The fight broke out after family members had gathered to discuss funeral arrangements the day after Kenneally's father died.
"My client has complete confidence the judicial system will prove his innocence," Keith Nicholson said.
The Boston Police Department's domestic violence and anti-corruption units have opened an investigation into the matter.
Local
In-depth news coverage of the Greater Boston Area.
According to the police department, Kenneally was arraigned in West Roxbury District Court, but no details were provided.
It was not immediately clear if Kenneally will be paid while off the job, or how long the investigation may take.
If you or someone you know is experiencing domestic violence, contact the National Domestic Violence Hotline by calling 1-800-799-SAFE (7233), visiting www.thehotline.org or texting LOVEIS to 22522.