Boston City Hall is almost the ugliest building in the country, according to a new survey.
The brutalist landmark placed at No. 2 in the survey conducted by home improvement company Buildworld, just behind the FBI's headquarters, the J. Edgar Hoover Building in Washington, D.C. They are followed by the Verizon Building in New York City, D.C.'s Watergate Complex and the Denver International Airport in Colorado.
Buildworld created the survey by compiling a list of buildings often considered ugly and then analyzing the percentage of negative tweets about the buildings' designs, according to their website.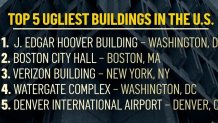 Opened in 1968, the building's stark design by Kallmann, McKinnell, and Knowles immediately attracted praise from architecture critics and criticism from many others.
In November, the city reopened the plaza around city hall after a major facelift. Among the changes added since July 2020 are increased public accessibility, play spaces, interactive public art and gathering spaces that can accommodate thousands of people.