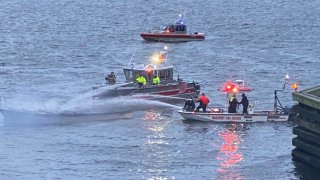 The Boston Fire Department and Massachusetts Port Authority Fire are responding to a boat fire at Rowes Wharf.
Despite windy conditions, the Boston Fire Department says BFD Marine Unit 2 was able to pull the boat to the dock and keep it from hitting other boats.
It's unclear how the fire started or how many people were on board when the boat caught ablaze.
This is a developing story and will be updated as further information becomes available.