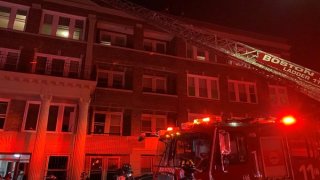 A Boston firefighter was taken to the hospital to get treatment for minor injuries after responding to a Brighton apartment fire.
The Boston Fire Department received a call around 1:45 a.m. about a fire at a four-story apartment building at 123 Sutherland Rd.
Upon arrival, crews found heavy smoke coming from the building.
The fire was on the first floor and contained to one apartment but other units were damaged. Officials estimate the building sustained about $100,000 worth of damages.
A number of people were displaced and building management was assisting them.
The cause of the fire remains under investigation.
More Happening in Boston