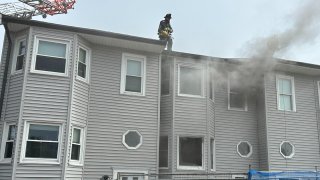 Firefighters made quick work of a fire in a multi-family home in Boston on Thursday afternoon.
The fire was reported around 1 p.m. in a 2-story attached building in the 600 block of Dorchester Avenue. The fire was on the first and second floors of the building. Photos from the scene showed heavy smoke coming from the windows.
"Great communication by all, companies were to quickly get to the fire despite the bridge being closed and the house was located adjacent to the bridge," Boston fire said on Twitter.
No injuries were reported, but fire officials said three residents were displaced by the fire.
The cause remains under investigation.