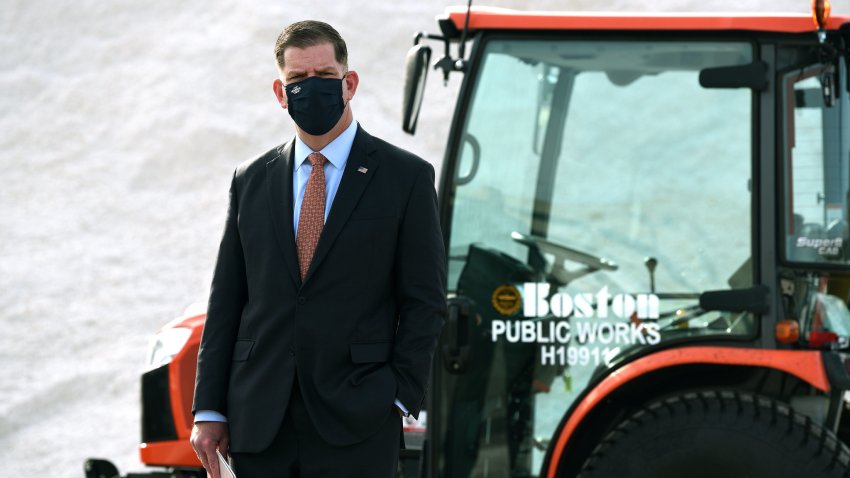 Mayor Marty Walsh discussed snow, safety and space savers during his annual update on Boston's winter preparedness on Friday.
Though there is no snow on the ground right now, Walsh said the city has $20 million budgeted and 45,000 tons of salt at the ready.
"The theme of 2020 is facing challenges by working together," he said. "That's what we do in this year and every year."
That means not just making sure the streets are plowed and sidewalks cleared, but also that Boston's most vulnerable residents are being cared for.
Walsh urged residents to look out for their elderly or disabled neighbors, checking on them and helping to clear their sidewalks and walkways of snow.
He said the city is taking steps to make sure the homeless are cared for as well.
Local
In-depth news coverage of the Greater Boston Area.
Right now, the city has 1,200 beds available, and is working to bring another 200 beds online ahead of the winter, said Sheila Dillon, the city's chief of housing. But she urged anyone who sees someone who appears to be in trouble to report it.
"There's a lot of systems in place, a lot of safeguards in place, but you are our eyes and ears," she said.
Jerome Smith, the city's chief of civic engagement, reminded residents that space savers, a long-standing Boston tradition, are only allowed when the city declares a snow emergency. And even then, only for 48 hours. The one exception is the South End, where residents decided they would no longer use them.
If space savers are used at any other time, he said the city will pick them up during regular trash collection.
Walsh's remarks on Friday came as the city continues to grapple with the ongoing coronavirus pandemic.
He warned Tuesday that a shutdown of the economy and a ban on indoor dining are among the measures that could be taken if Boston's coronavirus cases continue their current rapid climb.