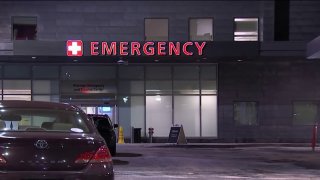 The emergency room at Boston Medical Center reopened Monday, earlier than scheduled, after a speedy cleanup from a burst pipe during Saturday's bitter cold snap.
The emergency room had originally been slated to stay closed until Tuesday after water flooded the building from the burst pipe. Patients couldn't go inside for hours Saturday, with temperatures below zero, and patients already inside the emergency room were moved to other parts of the hospital.
But ambulances were again going to the Boston Medical Center as of 7 a.m. Monday after "a rapid, around the clock cleanup," according to a statement from the hospital. However, operations were still impacted Monday, with more cleaning to do.
"We want to thank EMS and our hospital colleagues across the city for their support. We also want to thank visitors to our hospital for their patience as we work to restore the Emergency Department to full operations in the coming days," the statement said.
Several other Boston-area hospitals also issued code blacks, preventing new admissions, amid the bitter cold.