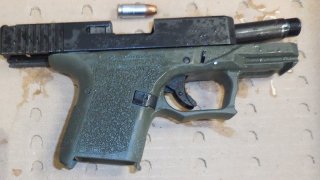 A 12-year-old was arrested for possession of a loaded handgun by police responding to a report of a stolen motor vehicle in Boston's Dorchester neighborhood on Monday afternoon.
Boston police said they received a call shortly before 2 p.m. Monday reporting a stolen motor vehicle on Stratton Street in Dorchester.
When police arrived at the scene, a passenger exited the stolen motor vehicle and fled on foot. The passenger could be seen clutching his waist area and then discarding a gun. Officers apprehended the 12-year-old and recovered the gun, which was determined to be a 9mm, which was loaded with one round in the chamber and six in the magazine.
Police said the 12-year-old is being charged with unlawful possession of a firearm, unlawful possession of ammunition and unlawful possession of a loaded firearm.
The 16-year-old who was driving the stolen vehicle is being charged with receiving a stolen motor vehicle and unlicensed operation of a motor vehicle.
Both were expected to be arraigned in Dorchester District Court. No details on bail or the date of their court appearances was released by police.