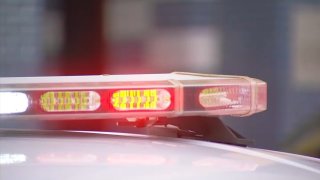 A Boston police officer is facing witness intimidation charges amid an internal investigation, Boston police confirmed Monday.
Matthew Morrissey, who had been under investigation by the department's Bureau of Professional Standards since October, was placed on administrative leave Saturday for alleged violations of the department's residency requirement.
Morrissey is accused of intimidating and harassing another officer who was working on that internal investigation. He is charged with intimidation of a witness and harassment.
The charge is related to Morrissey's actions against a Boston police anti-corruption officer who was leading an investigation into his violation of the residency requirements, the Suffolk District Attorney's Office said in a release. Morrissey reportedly went to the home of the other officer at 1:40 a.m. Sunday, blocked access to the house with his truck, and rolled down his window and stared silently at the fellow officer through a glass door for about a minute and a half, prosecutors said.
"Conduct such as this will not be accepted or ignored by the Boston Police Department. Our Officers take an oath to uphold the law and will be held accountable to that very oath. This arrest serves as a clear reminder that the Boston Police Department holds its Officers to the highest standards," Superintendent-in-Chief Gregory Long said in a statement.
"All of us in law enforcement are supposed to protect the residents of the municipalities in which we serve, and we are rightfully held to the highest standard,'' Suffolk District Attorney Kevin Hayden added. "The actions of Office Morrissey are troubling on many levels: he lied about where he lived, and he intimidated a fellow officer who had placed him on administrative leave.''
The investigation is ongoing and involves the Boston Police Bureau of Professional Standards and Suffolk County District Attorney's Office.
Morrissey was released on personal recognizance following his arraignment Monday in the Dorchester Division of Boston Municipal Court. He was ordered to stay away from the other officer's home and the anti-corruption division of the Boston Police Department.
He is being represented by attorney Ken Anderson and is scheduled for a pre-trial hearing on April 21.
Morrissey's lawyer called the incident "overblown."
The Associated Press contributed to this report.