Pride is back!
Boston Pride for the People announced the return of a Pride Month celebration in Boston on June 10. The celebration will include a parade, a festival and much more.
Here's everything we know so far:
What is Boston Pride for the People?
Boston Pride For The People's volunteer board and working committee were formed by community organizers and community members. Some were members of the organization Pride for the People, some were organizers of Pop-Up Pride (2022), and others are LGBTQ+ leaders and community members.
Their mission is to Empower through creating LGBTQ+ community and a culture of respectfully reaching across differences to support and love one another; to Celebrate and honor the rich, diverse, creative, and fabulous culture of LGBTQ+ communities and impart knowledge of LGBTQ+ history and a sense of pride among LGBTQ+ youth; to Commemorate the Stonewall riots and memorialize the queer, trans, Black, Indigenous and People of color (QTBIPOC) activists at the forefront of the 20th century lesbian, gay, bisexual, transgender, queer, intersex, asexual, plus (LGBTQ+) movement; and to Educate on the presence and impacts of oppression and advocate against oppression through disrupting and dismantling systems that cause harm to LGBTQ+ people, especially LGBTQ+ people who face multiple forms of marginalization.
Boston Pride for the People parade details
According to Boston Pride for the People, the purpose of the Pride parade is to commemorate the brave LGBTQ+ people who risked their safety to advocate for the lives and humanity of LGBTQ+ people, to celebrate the richness and complexity of LGBTQ+ community, and to continue to advocate for equity and inclusion for LGBTQ+ people, especially those who face intersecting forms of oppression.
The parade starts at 11 a.m., but parade participants should plan to be in place by 9 a.m.
The planned route is very similar to the route the parade has taken in prior years, only shorter.
Parade route:
Parade begins on Boylston Street
Turn right onto Clarendon Street. March past St. James, Stuart, Columbus Avenue, Appleton, Warren.
Turn left onto Tremont Street. March past Waltham, Hanson, Milford, Dwight.
Turn left onto Berkeley Street. March past Warren, Appleton, Columbus Avenue, Stuart, St. James.
Turn right onto Boylston. March past Arlington.
Turn left onto Charles Street. March past Public Garden on left, Boston Common on right.
Turn right onto Beacon Street. March uphill. Parade disassembles as it proceeds up Beacon to the corner of Beacon and Park Street.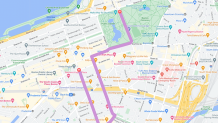 Who should apply for registration:
LGBTQ+ student groups and other educational community groups
Community groups and nonprofits who support LGBTQ+ welfare, LGBTQ+ culture, and intersectional social justice advocacy
LGBTQ+ employee resource groups (ERG's) or affinity groups
Politicians and their supporters
Individuals
LGBTQ+ bars, clubs, and entertainment spaces
You can find more information on parade fees here and parade details here.
If you are an individual looking to march in the parade, stay tuned for details. If you have questions or comments regarding the parade, contact parade@bp4tp.org.
Boston Pride for the People Festival
The Boston Pride for the People Festival will be held on the Boston Common following the parade.
Main stage entertainment begins at 12 p.m. The City Hall Plaza celebration also begins at 12 p.m. and is 21-plus, with dancing, beer, wine and vendors.
Other Pride Month events
Here's the full calendar of Boston Pride for the People events.