Scores of Boston Public School students walked out Friday in a call for a temporary return to remote learning and more safety protocols because of COVID safety concerns.
Students left classes at various schools at about 10:30 a.m. in a protest organized by a group called the Boston Student Advisory Council. The plan was to spend the first hour calling and emailing state officials before delivering speeches about their concerns.
The group is demanding the district go remote for two weeks and that those days be counted towards the state's mandate of 180 days of in-person learning, something the governor has resisted.
Students at New Mission High School chanted and held signs to argue that there weren't enough available teachers to keep school running well.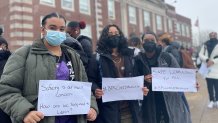 A dozen students walked out at Boston Latin, though some who participated said more stayed home. Those who participated said that many school staff have been out, and it's caused issues.
"They're just pushing us in the auditorium or in the dining halls and it's just very unsafe for us," one student said.
"I feel like I'd rather be safe, especially because I live with people who are immunocompromised, than risk going to school everyday," said another student.
Boston Student Advisory Council is also calling for better personal protective equipment for their teachers. They also want a better testing and contact tracing system to be in place.
The district released the following statement Friday morning:
"Boston Public Schools believes deeply in students advocating for what they believe in. We further believe it is critically important that we encourage and support them in expressing their concerns, beliefs and positions to their leaders. We will continue to listen to our students and families as we navigate this latest surge and the impacts it has on our ability to remain in person and deliver a quality education."
"This week, because of the cold day, my elementary student and anyone else who would usually get tested on Tuesday wasn't tested and they just didn't reschedule the testing in the middle of this huge surge," said Bridget Colvin, a parent with three students in Boston Public Schools, ahead of the protest Thursday.
Colvin, who is a member of a group called BPS Families for COVID safety, said she supports the student-led walkout.
"I would like BPS to start listening to students, teachers and families. We don't always feel like we're being heard," Colvin said.
More on Mass. Schools
With over 1,000 BPS staff members still out due to the surge, the district is making plans for if schools and classes should have to close. The superintendent said remote learning is a last resort and they are hopeful it will not come to that, and Mayor Michelle Wu has been pushing for more flexibility on that front.
But Gov. Charlie Baker made it clear this week he's not budging on the ban on remote learning.
"If the school districts not open at some point over the course of the year, they can use snow days until they run out of snow days," Baker said. "But they do need to provide their kids with 180 days of in-person education this year. And we'll do whatever we can to help them deliver on that."
Last week, a student at Boston Latin started a petition to bring back remote learning as an option for those who do not feel safe. The petition now has close to 7,500 signatures and some of the supporters plan to participate in the walkout.
On Thursday, the state Department of Elementary and Secondary Education released its latest report on COVID in Massachusetts schools. It showed that more students tested positive for COVID-19 in the last week than in the previous two, continuing a sharp upward trend of cases in schools.