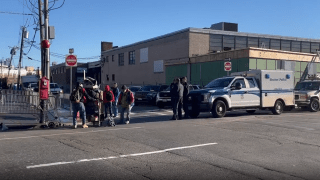 The City of Boston plans on once again enforcing a tent-removal protocol on Monday in the homeless encampment near the intersection of Massachusetts Avenue and Melnea Cass Boulevard, according to the Boston Globe.
The city has allowed tents at the "Mass. and Cass" area over the winter, the Globe said, but officials have been letting people know that they'll need to move "all tents and structures from Atkinson Street by May 1, 2023," according to a flier obtained by the news outlet.
A spokesperson for the Wu administration told the Globe that the city chose not to remove the tents during the colder months "out of concern for the wellbeing of unsheltered individuals."
"Mass. and Cass" is named for intersection at the crossroads of the South End and Roxbury that is known for being the epicenter of Boston's homelessness issue, with tent cities popping up over the years. Addressing the issue has been a major initiative by the Wu Administration, which has called on the state for additional help.
The area is also known as a hub for drug dealing, and many people there deal with opioid-use disorder.
The Globe reports that the city will be offering people free shelter, substance abuse treatment, relocation and storage options with the reintroduction of enforcement.