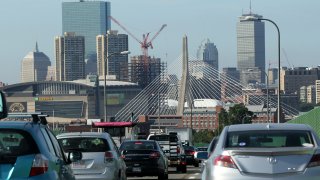 Boston drivers, you're not crazy. The city's traffic is nearly the worst in not only the country, but the world, according to a new analysis.
The Hub is the second most congested city in the United States and the fourth worldwide, according to INRIX, a company that analyzes traffic data around the world. Only drivers in London (156 hours), Chicago (155) and Paris (138) lost more hours in traffic in 2022.
Boston drivers spent 134 hours in congestion, INRIX found. That's more than five and a half days of the year.
The study also found out that Boston drivers wasted around $2,270 in gas during all those hours in traffic.
Boston's second place position in the U.S. may be bad, but it's an improvement over past studies — pre-pandemic, it was the most congested city in the country.
Traffic around Boston was much lighter in 2021, during the pandemic, according to INRIX — congestion is up 72% year over year — but still 10% lower than it was in 2019, when it led the nation.
Rounding out the top five most-congested U.S. cities are New York (117 hours), Philadelphia (114) and Miami (105).
All that time in traffic does not appeared to have affected Boston's reputation for being family friendly — Massachusetts was just named the best state in the U.S. to raise a family by Wallethub.