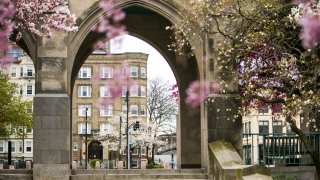 Boston University is warning students not to partake in a dangerous binge drinking trend highlighted on social media ahead of St. Patrick's Day weekend.
The TikTok trend known as "blackout rage gallons," or "BORGs," is where college-aged students are seen binge drinking gallon jugs of alcohol, electrolytes, flavoring and water.
BU's Student Health Services is recommending against consuming BORGs, and in a social media post, offered safer alternatives.
Boston University is not the only institution aware of the dangers of the drinking trend.
The trend is to blame for numerous hospitalizations at the University of Massachusetts Amherst during an annual early St. Patrick's Day celebration earlier this month. There were so many calls for ambulances for student alcohol intoxication that neighboring agencies stepped in to help, officials said.