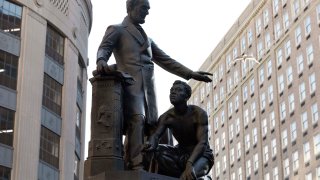 Boston's mayor is considering the fate of a public statue depicting former President Abraham Lincoln standing before a freed black man after a petition called for its removal.
The statue in the city's Park Square is a replica of the Emancipation Memorial in Washington and depicts Lincoln with one hand raised above a kneeling man with broken shackles on his wrists.
The statue is meant to show Lincoln freeing the man from slavery, but a petition against the statue says it "instead represents us still beneath someone else."
The petition was started by Tory Bullock, a Boston man who says the statue has long led him to ask, "If he's free why is he still on his knees?" His call to remove the memorial had attracted nearly 5,000 signatures as of Saturday.
The Boston Globe reports that Mayor Marty Walsh is in favor of removing the statue and is interested in replacing it with something that recognizes equality. Walsh's office said the administration is looking into the process required to make the change.
Meanwhile, protests against police violence continued across the state Saturday. Dozens of protesters gathered in East Boston for a Black Lives Matter demonstration. Others were planned in Worcester, Gloucester and Haverhill.
Copyright AP - Associated Press