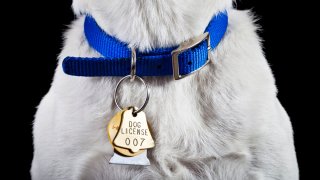 Fido? Who's that?
Names traditionally used for humans continue to top the list of most popular dog names in Boston, which the city's Animal Care and Control Division released this week.
The top name is a bit of an exception, however. There were more Lunas registered in the city in 2022 — 114 of them, to be exact — than any other name. The most popular male dog name in Boston was Charlie, once again, with 81 of them were registered in Boston last year.
The city breaks down its top dog name lists by gender. These were the top 25 female dog names:
LUNA
BELLA
DAISY
LUCY
LOLA
PENNY
ROSIE
STELLA
BAILEY
SADIE
MOLLY
RUBY
CHLOE
COCO
MAGGIE
LILY
MILLIE
SOPHIE
OLIVE
WINNIE
PEPPER
LULU
WILLOW
ELLIE
PIPER
And the top male dog names:
CHARLIE
COOPER
TEDDY
MAX
FINN
OLIVER
MILO
WINSTON
ROCKY
OLLIE
LOUIE
TOBY
GUS
HENRY
BUDDY
TUCKER
ARCHIE
LEO
JACK
BEAR
BRUNO
ZIGGY
JACKSON
DUKE
BENTLEY
The lists are based on licensing data from, and were published as a reminder that the annual deadline for licensing pets is March 31. All dogs in Boston are required to be licensed every year.
Dogs must be registered in Boston if they are older than 6 months old and owners must provide a copy of the rabies certificate.
The data also showed the top 10 breeds of dogs in Boston:
Labrador retriever
Golden retriever
Chihuahua
German shepherd
Miniature poodle
Pit bull
Yorkshire terrier
Shih tzu
Beagle
Australian shepherd
Boston's licensing fees are $15 for a neutered male or spayed female or $30 for an intact male or female. The fee is waived for service animals and residents age 70 and older.