Boston's St. Patrick's Day parade returned this weekend after a two-year hiatus, an event Massachusetts Gov. Charlie Baker called a well-earned reward after the anxiety, trauma and tragedy caused by the pandemic.
The procession stepped off in South Boston Sunday afternoon for the first time since the coronavirus pandemic began.
Boisterous crowds lined the sidewalks, smiling, wearing green and cheering for the first responders who kicked off the celebration. Fire trucks, ambulances and police vehicles streamed down the route, sirens blaring.
"There are smiles from ear to ear everywhere. I think people are really happy that this is back,'' Baker said during the NECN broadcast of the event.
Baker said it's important to recognize and appreciate what people have gone through during the pandemic.
"The people of Massachusetts not only have been resilient but have been very kind and gracious to each other in a very difficult time and I've had a front row seat to see that over and over again," Baker said.
The St. Patrick's Day parade on a 60-degree day is a "big reward that was well-earned,'' the governor added.
And the great weather was not lost on parade attendees.
"Totally awesome," one woman in green said. It's always such a good vibe especially on such a nice day."
Boston Mayor Michelle Wu said it was beautiful to see so many families, friends, neighbors and visitors gathered to celebrate the community and its proud heritage.
Amongst the sea of people standing along the barricades on Broadway, normalcies like a return to live instrumentation brought excitement.
"The bag pipers really are the showstoppers," one man said. "And the thing about the bag pipers is that they've been practicing regardless of the parade so they're only getting better."
Soldiers embracing families. Flags waving along the city's streets. It's the sights and sounds of a St. Patrick's Day parade, marking a milestone in the city's emergence from a debilitating pandemic.
"It felt great. Being out here. Seeing everyone outside. It's a breath of fresh air," another man added. "It's been a lot of tough times but we worked through it."
And indeed the streets of South Boston were filled with excitement and lots of people in green -- not only along the parade route but also on public transit.
MBTA transit police advised parade attendees to bring their patience on Sunday, noting heavy crowds at Broadway Station.
The parade's chief marshal was Susan McDonough, a South Boston native and veteran who was supposed to be the chief marshal in 2020.
In 2020, St. Patrick's Day parades across the country were among the first major events cancelled as the virus hit the United States. Many returned this year, in a sign of growing hope that the worst of the coronavirus pandemic may be over.
Boston is home to one of the country's largest Irish enclaves. Parade organizers decided during the omicron surge to march, but shorten the route, excluding Dorchester Heights.
The parade is hosted by the South Boston Allied War Veterans Council. David Falvey, council commander, told The Boston Globe that the focus for this year was to bring the parade back in some form, even if not the full route, after two very long years away.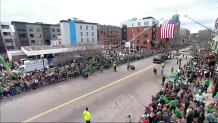 Prior to the joyous parade, a sea of green packed the Boston Convention and Exhibition Center Sunday morning as maskless Massachusetts politicians returned to South Boston for the first time in three years for a St. Patrick's Day weekend breakfast gathering that marked a new chapter in the COVID pandemic and doubled as a reminder that stand-up comedy is not for everyone, but there's no shame in trying.
"If nothing else, what these past two years have provided was an opportunity to show how we can get through anything together… except the Republican primary," breakfast host Sen. Nick Collins said.
Norfolk County Treasurer Michael Bellotti called Quincy the home to the most counterfeit vaccine cards in America, joked that he got COVID five times and Quincy Mayor Tom Koch responded by giving him a placque, and said House Speaker Ron Mariano of Quincy "would rather be peed on by dogs than be at this breakfast."
"It's wonderful drinking Irish coffee and listening to bad jokes," said Senate President Karen Spilka, who gave outgoing Gov. Baker a big yellow duck symbolizing his lame-duck status for the remainder of 2022.
Spilka went on to roast Republican candidate for governor and Trump supporter Geoff Diehl, speculating about his daily schedule including an anti-science rally, a Capitol insurrection, and an afternoon book-burning.
And she joined others at the convention center in targeting Wu's public health rules, recalling how Collins asked her to speak at Sunday's breakfast.
"And then the next day, Mayor Michelle Wu called up and mandated it," Spilka said.
Wu surfaced her pandemic rules and other challenges she has faced in her first few months in office.
"In just over 100 days, we have connected unhoused residents at Mass. and Cass to housing, treatment and services. We've launched three free bus lines. We have take some big bold actions, but I won't lie. This past winter was pretty intense. Trial by snow. Trial by fire fighters union. I'm getting used to dealing with problems that are expensive, disruptive and white," Wu said. "I'm talking about snowflakes, snowflakes!"
The mayor also rolled her status as the city's first Asian-American mayor into her time at the mic.
"Some of you may have heard about the protester who heckled another Asian woman they thought was me," she said. "For the longest time, no one could imagine an Asian woman as mayor of Boston. Now they're imagining every Asian woman they see is mayor of Boston. That's progress, right."
Sen. Sonia Chang-Diaz, a candidate for governor this year, told attendees that she had been mistaken online for New York Congresswoman Alexandria Ocasio-Cortez.
"You know, Latina, two last names, Green New Deal," Chang-Diaz said. "Maybe if they keep this up, [Sen. Ed] Markey will endorse me."
City Councilor Michael Flaherty joked that Congresswoman Ayanna Pressley couldn't be there because she was on vacation with the just-indicted Monica Cannon-Grant, calling them a "modern version of Thelma and Louise."
Flaherty also brought up his unsuccessful effort to get Baker to name him acting Suffolk County district attorney, saying the governor's office had returned him a letter stating "Irish need not apply."
Baker's choice for the job, Acting District Attorney Kevin Hayden, later called Flaherty's father a mentor to him and reminded the councilor that "we're all Irish today."