Police are investigating a report of alleged elder abuse that recently took place in Brentwood, New Hampshire.
Authorities said they were notified on June 29 by a witness who observed an elderly woman and a younger woman, believed to be her daughter, outside of a local business.
The witness told police she saw the younger woman hit the elderly woman as latter was being transported from a wheelchair into a vehicle. The elderly woman was allegedly hit in the face and back and had her legs kicked while being verbally reprimanded.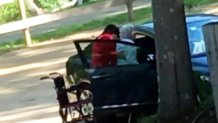 While this was happening, the witness took a couple of cell phone pictures to show police. Authorities are hoping the public will recognize the alleged abuser or elderly victim so they can check on her.
Anyone with information is asked to contact Brentwood police at 603-642-8817.
[[375690231, C]]