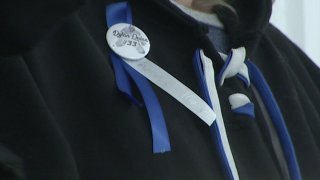 A Massachusetts high school hockey team won an emotional game Saturday night as players honored their teammate who was killed in a car crash last weekend.
The Bristol-Plymouth Regional Technical School hockey team beat Southeastern Regional at Raynham Ice Arena, NBC affiliate WJAR reported, with players sporting the number 33 in honor of Dylan Quinn.
The 16-year-old was a passenger in his friend's Mazda pickup truck when the vehicle crashed around 7:30 a.m. last Sunday on Myricks Street in Berkley, striking a utility pole and then tree before coming to a rest upside down.
The Bristol County District Attorney's Office said the two teens had just left a Dunkin before the fatal crash. Quinn was rushed to St. Luke's Hospital in New Bedford where he was pronounced dead. The 16-year-old driver, whose name has not been released, suffered non-life threatening injuries in the crash.
Quinn was a junior at Bristol-Plymouth in Taunton, with the superintendent calling his death "a tragic loss" last weekend.
A goalie for the boys varsity hockey team, Quinn started playing the sport when he was just four years old and was a born athlete, according to his obituary. He also enjoyed lacrosse and snowboarding, and loved anything that involved adventure and risk.
"Dylan was known for his infectious grin, his ability to make people laugh, brighten a day, and for his many pranks," read his obituary, which also described him as a natural leader, a kind person, and a true and loyal friend.
In the days following the tragedy, Quinn's friends and family began using the hashtag "Sticks out for Dylan" in social media posts to honor the teen, with people across the Bay State placing hockey sticks out on their front porches to show their love for Quinn and the Mass. hockey community.
A moment of silence was held for the Rehoboth teen before Attleboro's hockey game vs. Holliston on Monday night, with the team writing in a Facebook post, "The Attleboro Hockey Family mourns the loss of friend and teammate to many, Dylan Quinn. We stand with the Quinn family and Southeastern Regional-Bristol Plymouth Hockey in honoring and remembering Dylan's young life."
The Attleboro High School hockey team also held a lottery ticket raffle at Saturday night's game, with all of the proceeds going to a GoFundMe started for the Quinn family.
Also in Attleboro, the Bishop Feehan hockey team shared a post on Facebook, writing, "Our thoughts and prayers are with the family of Dylan Quinn and the entire Bristol/Plymouth Community after learning of this tragic loss."
The Boston Bruins are also honoring Quinn, noting the goalie was involved with some of the organization's hockey clinics.
The Bruins hung a #33 jersey with Quinn's name on it in their locker room Sunday night ahead of their game against the San Jose Sharks at TD Garden.
"The #NHLBruins are extremely saddened by the tragic passing of BP-Southeastern goalie Dylan Quinn, who was a volunteer at several of our Learn to Play clinics over the years," the Bruins wrote in an Instagram post. "Our hearts are with his family, friends, and teammates during this difficult time."
Quinn is survived by his younger brother Connor and his parents Michael and Cara.
Relatives and friends are invited to attend a visitation that will be held on Saturday, Feb, 4, from 10 a.m. to 2 p.m. at the Waring-Sullivan Home at Birchcrest in Swansea. On Sunday, Feb. 5, a celebration of life service will be held at 1 p.m. in the gymnasium at Bristol-Plymouth high school, located at 207 Hart St. in Taunton.
Berkley and state police continue to investigate the cause of the crash that killed Quinn.