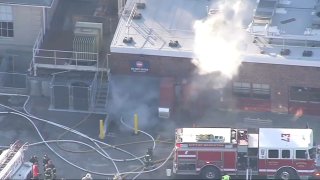 Days after a fire forced the evacuation of Brockton Hospital, the facility remains closed.
More than 70 ambulances showed up Tuesday to transfer more than 170 patients after the electrical transformer fire broke out at the Massachusetts health care center.
Elective procedures at Signature Healthcare Brockton Hospital had previously been canceled through Friday.
In a statement Friday afternoon, the hospital said emergency services, elective procedures and other care visits were still not available, giving no timetable for reopening.
Brockton Hospital noted that all other buildings on the campus are open, staffed and taking patients.
There were no injuries reported in the fire. Temperatures were in the high 20s during the evacuation.
Signature Healthcare is a 216-bed hospital. Brockton is about 25 miles (40 kilometers) south of Boston.
People with loved ones in the hospital who need more information can call 617-370-5971.