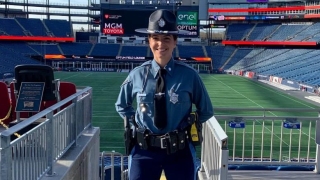 A group of Massachusetts State Troopers began a journey to Washington D.C. on Thursday in honor of one of their former Academy classmates who gave the ultimate sacrifice.
A departure ceremony was held Thursday morning at Gillette Stadium in Foxboro ahead of the "Burpees for Bucci" journey, which is honoring Trooper Tamar A. Bucci. The 34-year-old trooper was killed in the line of duty in March of 2022.
The group of troopers, who graduated from the 85th Recruit Training Troop, are embarking on a bus trip to Washington D.C. and the National Law Enforcement Officers Memorial, where Bucci's name will be added on Monday. The troopers will attend ceremonies for National Police Week, along with Bucci's family, that will recognize her sacrifice.
In each state, the troopers will stop and perform an act of kindness, with stops planned at a Rhode Island humane society, a Connecticut elementary school, a Girl Scout troop in New Jersey and several more places.
The troopers will also do a some burpees in each state, to honor Bucci's dedication to her fitness and toughness.
Bucci was killed in the line of duty on March 3, 2022, when her cruiser was hit by a gas tanker on I-93 in Stoneham. She was trying to pull over, to offer help to a stopped driver.