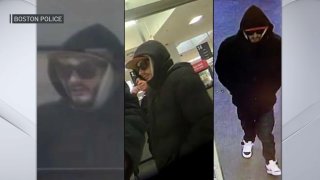 A 27-year-old Cape Cod man who was arrested Saturday night for allegedly driving a stolen vehicle is facing charges in connection to an attempted robbery at a bank in Dorchester earlier in the day, Boston police said.
Lukas Gauthier, of Mashpee, Massachusetts, was taken into custody after police conducted a traffic stop just after 10 p.m. in the area of Washington and East Berkeley streets for a motor vehicle that had been reported stolen. Gauthier was subsequently charged with receiving a stolen motor vehicle and operating after revocation or suspension.
After further investigation, Gauthier was also charged with attempted bank robbery.
According to police, it was Gauthier who entered a bank around 11 a.m. Saturday in the area of 1100 Massachusetts Avenue in Boston's Dorchester neighborhood and passed a note indicating that he was armed with a weapon.
No weapon was seen, however, police said, and the suspect fled the area after being refused by the teller.
Responding officers searched the area unsuccessfully for a suspect described as a man in his 30s with a thin build and facial hair, wearing a black jacket, white shoes and sunglasses.
Police did not say what information led them to charge Gauthier in connection to the incident at the bank. Anyone with information was asked to contact detectives at 617-343-4742.
Local
In-depth news coverage of the Greater Boston Area.
Gauthier is expected to be arraigned in Boston Municipal Court. It was not immediately clear if he had obtained an attorney who could speak to the charges.