What to Know
Officer Sean Gannon, a member of the K9 unit at the Yarmouth Police Department, was serving a warrant a Marstons Mills home when he was shot
The 32-year-old was taken to Cape Cod Hospital where he later passed away
Following a standoff, police arrested Thomas Latanowich, 29. He is being charged with murder. Latanowich has had more than 100 prior arrests
A police officer was shot and killed while serving a warrant at a Cape Cod home on Thursday afternoon.
Officer Sean Gannon, 32, a member of the Yarmouth police K9 unit, was serving a warrant at a home on Blueberry Lane in the Marstons Mills area of Barnstable when he was shot. Gannon was taken to Cape Cod Hospital, where he later died.
Gannon's police dog Nero was also shot. He underwent emergency surgery and is recovering at an undisclosed location on Cape Cod.
Police Pay Tribute to Fallen Yarmouth Officer
"With deep sorrow and heavy hearts the Yarmouth Police Department reports the loss of Officer Sean Gannon," the department wrote on Facebook Thursday night.
"I treat all of my officers like they are my own sons and daughters," Yarmouth Police Chief Fred Fredrickson said. "To lose one is like losing my own."
The suspect, 29-year-old Thomas Latanowich, of Somerville, was taken into custody after a standoff with police.
Sharon Ellis, who lives on Blueberry Lane, looked out her window Thursday and saw three people enter the home where the shooting took place. The next thing she knew, there was chaos.
"We did hear what I believed to be a couple of gunshots," she said. "It was all kinds of crazy."
Local
In-depth news coverage of the Greater Boston Area.
Latanowich has been charged with murder in Gannon's death. He was ordered held without bail at his arraignment Friday in the First District Court of Barnstable.
When Latanowich was arrested in December of 2016 and charged in a non-fatal stabbing, Yarmouth police described him as a "notorious and violent criminal" with over 100 prior criminal charges in Massachusetts.
A warrant was issued for his arrest last week after he violated his probation by being absent for a home visit and missing drug test.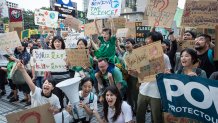 Fellow police departments and other public officials have been showing their support for Gannon, his family members and his colleagues on social media.
Gannon's cruiser is on display outside the Yarmouth Police Department, covered in black-and-purple bunting. A makeshift memorial has been set up in his honor, and flags at the station are flying at half-staff.
"I am heartbroken to learn of the passing of Officer Gannon," Gov. Charlie Baker said in a statement Thursday. "My thoughts and prayers are with his family, loved ones and the Yarmouth Police Department after this tragic loss. The Commonwealth is blessed to have courageous men and women who put their lives on the line to protect our communities every day."
Copyright AP - Associated Press