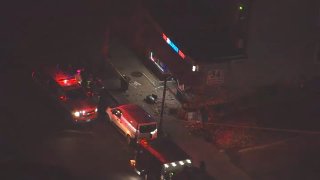 A car slammed into a barbershop in Boston's Brighton neighborhood Monday night.
Photos from the scene showed damage to the 34 Barbershop on Washington Street with some bricks and other debris strewn on the sidewalk.
​Initial information was extremely limited, but Boston police confirmed there was a report of a motor vehicle accident at that location.
The barbershop shared a post on Facebook, saying thankfully no one was hurt in the incident and the store will reopen soon.
"Will be back soon, to give our same great customer service," the post read. "Happy New year from the 34 Barbershop."
Police said they had no immediate word on any injuries. No other information was available Monday night.