Police are investigating after a car crashed into a home Sunday in Yarmouth, Massachusetts.
Authorities say the incident occurred on Highbank Road.
One woman was airlifted from the scene. There was no immediate update on her condition.
Photos from the scene showed extensive damage to the side of the home.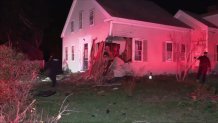 No other details were available, including how the car ended up slamming into the home.
The cause of the crash is under investigation.