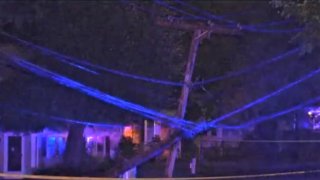 A 15-year-old high on marijuana crashed a car into telephone poles and a home in Needham, Massachusetts, early Wednesday morning before being arrested in a nearby neighborhood, police said.
The teenager, who is from Lawrence but hasn't been identified, had a minor injury but ran off from the scene after crashing into the garage, according to the Needham Police Department.
More than 150 people were without power early Wednesday morning after the crash, and broken power lines were strewn across Greendale Avenue. The road was closed while utility workers cleared the wires.
The incident began about 1:30 a.m., when a Needham officer pulled the car over, but it sped off as he walked up to it, police said.
As the officer drove after the car, which he'd lost sight of, he realized overhead power lines hit his cruiser. Then he saw the telephone poles were heavily damaged and the car crashed into the garage, according to police.
The driver got out through the passenger door and ran into the woods, but was located soon thereafter, police said.
They said the driver faces charges including driving under the influence of drugs, having an open container of alcohol in the car, failing to stop for police and driving without a license.
Local
In-depth news coverage of the Greater Boston Area.
The car was towed from the scene.