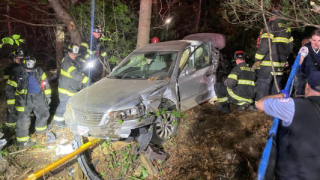 A car rolled over on Route 24 late Sunday night in Brockton, Massachusetts, landing well into the woods adjacent to the road, according to the city's fire department.
The Brockton Fire Department responded to the roll over crash just before midnight.
Crews who responded found the car had rolled, went through a guard rail and then landed 25 feet into the woods, the department said.
The driver was found pinned under the car, and crews had to perform an extrication to get the driver out.
Several agencies responded alongside Brockton fire, including the Avon Fire Department, Brewster EMS, the Brockton Police Department and Massachusetts State Police.
An update on the driver's condition was not immediately available.