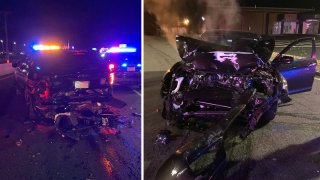 A suspected drunken driver crashed into a police cruiser during a separate traffic stop early Saturday morning in Westboro, Massachusetts, police said.
No one was seriously hurt in the crash, according to the Westboro Police Department, but photos they shared show a police cruiser with serious rear-end damage and a car with a badly damaged hood.
The crash took place on Route 9 near Main Street after officers had stopped another vehicle. While one officer was speaking with people inside, the other officer saw a dark-colored Honda sedan barreling towards them and alerted his partner, police said.
The car crashed into their unoccupied cruiser, "causing significant damage," police said in a statement.
Everyone was taken to safety, and the Honda's driver, Alexander Ramos-Felipe, was arrested on charges of driving under the influence, driving without a license, negligent driving, speeding and a lane violation, according to police.
It wasn't immediately clear if Ramos-Felipe had an attorney who could speak to the charges.