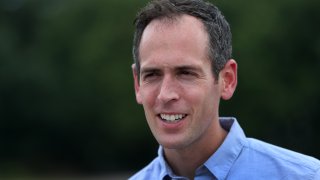 Robert Goldstein, an infectious disease physician at Massachusetts General Hospital, will become the state's commissioner of public health on April 18, Secretary of Health and Human Services Kate Walsh announced Tuesday.
Goldstein is also currently a senior policy advisor at the U.S. Centers for Disease Control and Prevention and a faculty member at Harvard Medical School.
He will take over from Margret Cooke, who was public health commissioner under former Gov. Charlie Baker and plans to stay on in an advisory role during a transition period.
"I am proud to have Robbie join us at DPH as we work to address some of the most critical issues facing all residents in Massachusetts, with a focus on health equity, inclusion, and reducing barriers to care for the most vulnerable communities in our state. His expertise both as a physician and as a policy advisor positions him well to lead the public health response in Massachusetts, and I appreciate his willingness to serve in this role," Walsh said.
Goldstein said the department faces big challenges, including gun violence, substance abuse, threats to reproductive health care and ongoing efforts to address COVID-19.
"With an approach rooted in equity and a commitment to including those who too often have confronted structural barriers in their paths, we can meet this moment and improve the health of all residents in the Commonwealth."
Goldstein was the medical director and founder of the Massachusetts General Hospital Transgender Health Program, according to the Healey administration, and has focused his clinical work on providing care to those living with and at risk for HIV. He holds a bachelor's degree, master's and doctorate from Tufts University, completed his residency training in internal medicine at Massachusetts General Hospital, where he served as chief resident, and completed his infectious disease training in the MGH/Brigham and Women's Hospital infectious disease program.
More Massachusetts stories
Copyright State House News Service