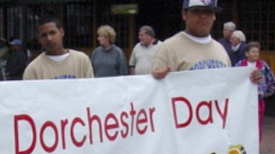 Here are 5 Things To Know About the Dorchester Day Parade
Start & Finish:
The parade starts at 1 p.m. on Sunday, June 3 in Lower Mills at the corner of Washington Street & Dorchester Avenue and travels along Dorchester Avenue to Savin Hill at the corner of Columbia Road and Dorchester Avenue. The parade route is 3.2 miles.
Chief Marshal:
We can't think of a more perfect person to lead the parade than Edward "Edzo" Kelly! He's a life-long Dot rat who's done good! A proud Boston firefighter, Edzo is also the General Secretary-Treasurer of the International Association of Fire Fighters. Happily married to his wife Katy, he's dad to Maggie and Tommy. He's an all around great guy we are proud to call one of our friends. Make sure to look for him leading the parade!
Local
In-depth news coverage of the Greater Boston Area.
One to Watch – DotOUT:
Be on the look out for the this crowd pleasing float. From the Price is Right to Rainbow Regatta, DotOUT does not disappoint! A little birdie told us this year's float theme is Rainbow Resistance and will include neon, confetti, glitter and camo.
Rolling Party & Pols:
Enjoy the party – from bagpipers to steel drums, the Dorchester Day Parade is a party on the move! In addition to marching bands and festive floats, there will also be lots of politicians! The official Son of Dorchester, Mayor Marty Walsh will be marching proudly through the streets of his hometown. Also be on the lookout for City Councilor Frank Baker, City Councilor At-Large Annissa Essaibi-George, State Rep. Dan Cullinane, State Rep.Daniel Hunt, and more!
Street Closures:
The Dorchester Day Parade starts at Dorchester Avenue at Adams Street in Lower Mills and will travel Dorchester Avenue to Columbia Road. This portion of Dorchester Avenue will be closed to vehicular traffic prior to 10 a.m. In addition, temporary "Tow Zone, No Stopping" parking regulations will be in effect as follows:
Dorchester Avenue, from Pierce Square to Columbia Road
Adams Street, from Pierce Square heading south to the Milton Line
Richmond Street, from Morton Street to Adams Street
Butler Street, from Adams Street to Richmond Street.
Bonus:
Lace up your sneakers! Register for the Project D.E.E.P & Blarney Stone Dorchester Day 5K. Race starts and ends at the Blarney Stone on Sunday, June 3 at 12:30 p.m. start. Registration begins at 11 a.m. You can also register online! Cookout immediately following!
The post Celebrating the Neighborhood: Dorchester Day Parade appeared first on Caught In Dot.